In 2023, the best way to hedge your brand from the noisy digital landscape and rising advertising costs are through great creatives. What we mean by "great" creatives are creatives that demand attention and prioritize getting the viewer to convert.
Modular Closets offers closet systems that can be built by anyone and are designed specifically to maximize your space for 50% less than other closet companies. Their target audience is homeowners and moms ages 28-52 who want to live a more organized life.
Let's dive into how we were able to cut their CPA by more than half and achieve nearly a 7x ROAS…
The Problem
Modular Closets came to Lauren Labeled because they were ready to scale up with UGC ad creatives. They were looking to get more from their paid social while doing what they can to decrease ad costs. They also knew they needed to show multiple creators that fit their target audience in their videos, but the current system in place for sourcing content wasn't sustainable. Before partnering with Lauren Labeled, they were doing influencer campaigns to source content—meaning they would give away free closets to each creator/influencer. Although it did give them a collection of raw influencer content, it was extremely pricey and time-consuming and they didn't have any strategic UGC creatives for Meta/IG or TikTok.
The Solution
Modular Closets was a unique creative challenge for our team considering the nature and the size of the product. We thoughtfully crafted full scripts and placed creators that fit the brand and target demographic. When creating content, we made use of features that look native to TikTok like the greenscreen effect and unique transitions to make the videos seamless and engaging. With this approach, we were able to help Modular Closets reach its digital advertising goals through videos that look more organic and stand out in the audience's feed.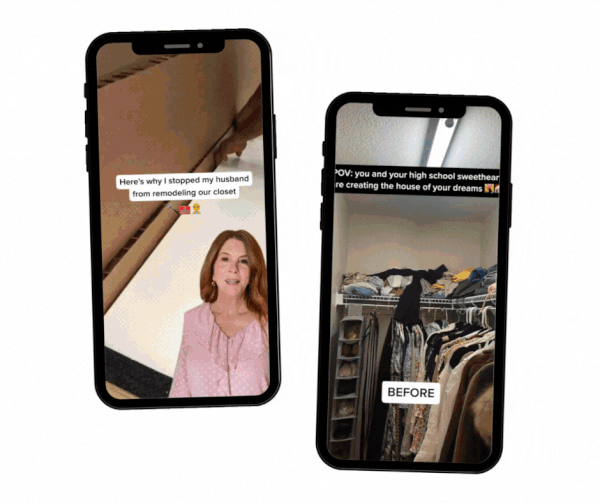 The Results
80 new UGC videos featuring a variety of creators that fit the target demographic
Lauren Labeled took the entire production process off of Modular Closets' plate—giving them fresh ad creatives to roll out in campaigns every week
Lauren Labeled creatives cut CPA by 53% YTD compared to all other creatives
6.8x ROAS YTD
Saving thousands of dollars due to no longer having to give away a free closet in order to get new content and creators
Ready to scale your business with top-quality ad creatives? Get started here!