While TikTok has certainly become more popular over the past few years, it can still be considered a "blue ocean" for marketers, especially for those who are willing to think creatively and take a unique approach to their marketing strategies while still keeping end goals in mind. While there is no doubt that the platform is becoming more crowded, the sheer size of its user base means that there are still plenty of opportunities for brands to reach new audiences and stand out from the crowd.
However, it's important for brands to understand that the same marketing strategies that work on other platforms may not necessarily work on TikTok. TikTok's unique algorithm and user behavior mean that brands need to be willing to experiment and try new things in order to succeed on the platform. Ultimately, whether or not TikTok is too crowded to market on as a brand depends on the brand's ability to think creatively, stand out, and engage with its audience in a way that is unique and authentic to the platform.
So let's break down how we grew Mandala Scrubs' organic TikTok account…
Before we get into it, I'd like to disclose that we never use any bots, added followers/likes/views, or use the follow/unfollow method.
The Problem
Mandala Scrubs asked us to take over their organic account because, although they were already running ads, they had a blank TikTok account. Paid social is just a single part of a marketing strategy. A successful marketing strategy is an intentional and diversified one.

Mandala Scrubs has been working with us for the past year on their ad campaigns and has been seeing great results. Check out How Mandala Scrubs Generated $2.7M In 5 Months On TikTok With Lauren Labeled Creatives. But they wanted to continue staying at the top of their game by having a quality presence on TikTok. This would also help push the needle for ads even more considering we're continuing the buyer's journey, growing an engaged community, and building trust and social proof.
Unlike paid ads, organic TikToks are evergreen. Paid ads stop working as soon as you turn them off while organic posts can have a much longer shelf life. TikTok can continue pushing a video from a year ago onto people's feeds.
The problem was they didn't have the time, expertise, or interest to handle the organic TikTok account in-house. And they aren't alone. Lots of brands work with us because they don't spend time on TikTok to know how to use it properly. It's a unique platform with all of the different trends, inside jokes, challenges, trending sounds, and ultimately, how people expect you to show up on the platform.
The Solution
We always develop content pillars that will guide all of the content we create. This will keep our strategy intentional enough to help us reach our goals but open enough so we don't feel boxed in. We try to do more than just trends, but also focus on other aspects like product differentiation, relatable lifestyle content that our buyer personas would relate to, and comment responses.

Next, we always stay on top of trends. Everyone on our team uses TikTok daily so we keep a pulse on any trends and up-and-coming sounds that are relevant to Mandala Scrubs.

We batch content but not the way most social media managers batch content for a more traditional platform like Instagram. We don't batch for weeks and months at a time. The platform just doesn't work that way. We plan posts but remain flexible enough to pivot if there's a trend that pops up that we want to hop on, a video goes viral, or the audience is very clearly telling us what they want more of.

Lastly, we handle all of the day-to-day that comes with running and growing an account organically. This means we handle making sure the post goes out, captions and researched hashtags, and replying back to questions and comments.
The Results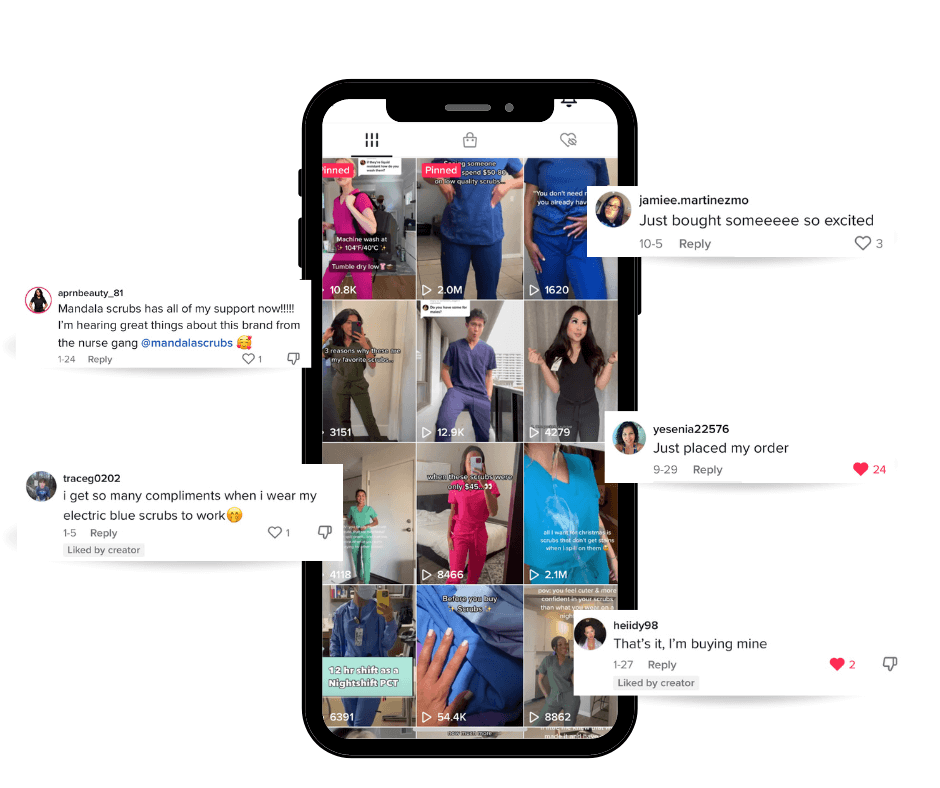 ✅ 12,800 follower growth
✅ Multiple viral videos with 2M+ views
✅ Unlocking organic TikTok as a new stream of revenue and brand awareness

It's been awesome seeing the positive feedback from the audience and getting to leverage the organic side of TikTok for Mandala Scrubs. We look forward to continuing their growth on both the paid and organic sides!